When our friend Akïo offered us to post an image in the city of Takasaki in Japan, we did not want to use an old image. True to our commitment to relevance to orders and products, we learned to our surprise that the city of Takasaki best known for the Daruma also had a specialty, exotic to say the least in Japan: Pasta! No, not oudon, soba and other Ramen, but wheat pasta in the Italian way. There's even a festival!
Rich in information we left with three axes: Pasta, Daruma and Typhon, another Japanese specialty.
Nature the typhoon generating a beautiful tornado carrying everything, the spaghetti seemed to us perfectly to stick with the subject. Although he imagined replacing meatballs with Daruma, something was missing from the image.
The recipe is a Japanese adaptation of Neapolitan spaghetti.
This is where the flying saucer piloted by a gluttonous Daruma comes who by sucking the spaghetti causes a tornado!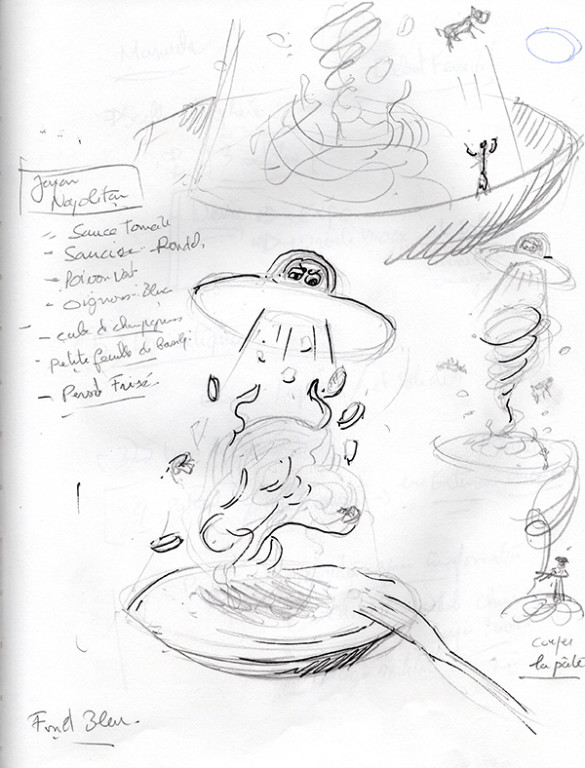 The photo was made with real pasta and the shaping of the tornado required a lot of patience (See pictures and video HERE and THERE on Instagram)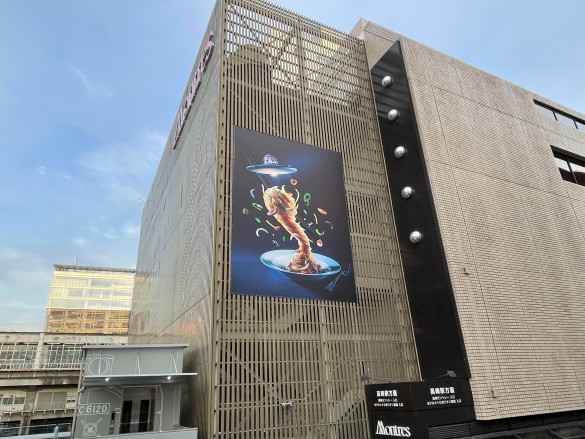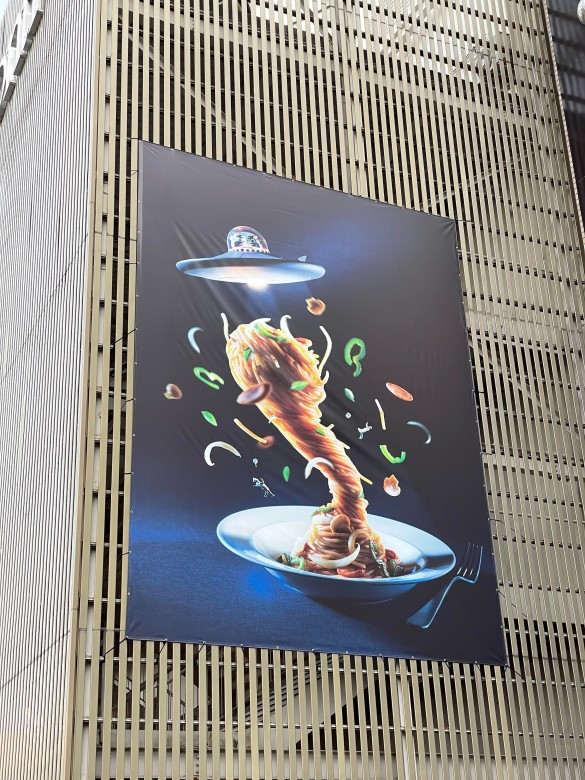 Diptych HERE
The artists exhibited during the ART PROJECT TAKASAKI
高崎アートプロジェクトのオーガナイザーでもある私たちの友人アキオさんから出展の依頼を受けた時、高崎という街にちなんだテーマを探すのに頭を悩ましました。
高崎市といえばまずダルマを思い起こしますが、驚いたことに、高崎市は実はパスタでも有名でした。群馬県が小麦の生産量高いということにも関係するのでしょうか、いずれにしてもパスタフェスティバルまで毎年開催されているとのこと。
ということで、今回の作品は3つのテーマでスタートしました。ダルマ、パスタ、そして日本の風物詩でもある台風です。台風の竜巻がパスタを巻き上げる、そこまでは良いのですが、何か面白みに欠ける。
そこで大食いだるまが空飛ぶ円盤に乗ってやって来て、パスタを吸い上げると竜巻が発生!というシーンとなりました。
写真には本物のパスタを使いましたが、この造形に仕上げるのにかなりの時間と忍耐が必要でした。