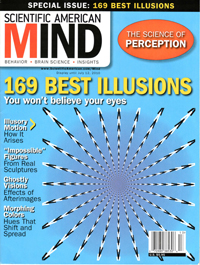 Le Magazine Scientific American Mind vient de publier un très bon dossier sur les illusions optiques et autres figures impossibles (Vous n'avez qu'à fixer la couverture pour pleurer au bout 30 de secondes). Il y a un article, où la nourriture et sa représentation y est exposé, dont les Minimiams font parti. On y retrouve aussi plusieurs artistes déjà mentionnés dans ce blog, comme Carl Warner ou Ju Duogi. Je me permet de reprendre un extrait de cet article qui est directement dédié à notre type de composition photographique :
« The juxtaposition of lilliputians and huge fruits has the dual illusory effect of making the potentially normal-size people look tiny and the possibibly typical fruit look supersized. It happens because the human brain uses context, the relative dimensions of nearby objects in the world as a primary means to determine their scale and absolute size. »
La suite de l'article parle aussi de la persistance rétinienne en relation avec notre cerveau et la lecture pré-établis de l'échelle des différents objets entre entre eux.
Donc n'oublier pas, Minimiam c'est contextuel !